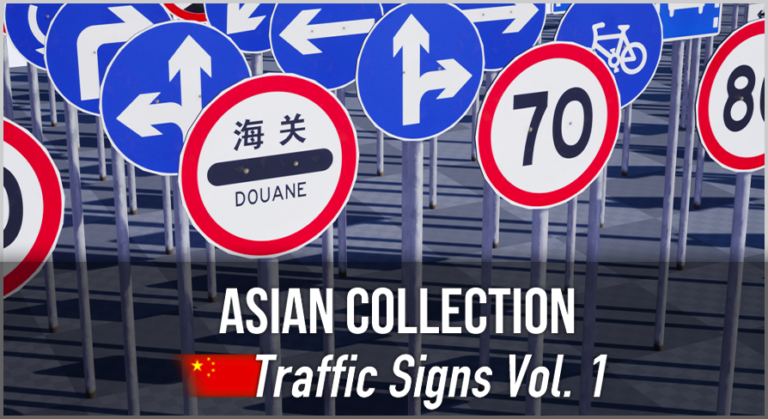 Asian Collection: Chinese Traffic Signs Vol. 1
Realistic chinese traffic signs

Include: Level of Detail; Collision, HQ Textures
First high resolution China pack

on the Internet

!
166 signs, total with all options: 184 signs
game-ready, archvis ready, realistic
Unreal Engine 4.26+,

Unreal Engine 5

convertable
First China Signs Pack on the Internet
Chinese Traffic Signs Pack stands out for its uniqueness on the Internet. It is the very first traffic signs pack with Chinese signs in 2048px resolution (and thus game-ready). All common Chinese traffic signs were vectorized, traced by hand and brought from 128x128px to 2048*2048px. Neither the quality nor such a pack can be found on the internet currently – this is a unique sign pack.
You still need a few extra little things?
There's nothing worse than buying a pack and then realizing, "Oh damn, I'm missing a bracket." But that's not a problem at all. Individual requests can be handled on request at a reasonable price. Just have a look at the product page. Maybe here is already exactly what you are looking for! If not, just use this page to create a request.
Asian Collection: Chinese Traffic Signs Vol. 1