The new Swiss Highway signs and 3D models are now available for the Unreal Engine. In the "Swiss Highway" asset pack of the "European Collection" you will find traffic signs, gantries and more. The pack has a Smart Traffic Light compatible traffic light built in and also has variable message signs (LED road signs). If you want to build a Swiss style highway, this pack is ideal along with the matching road parts.
European Collection: Swiss Highway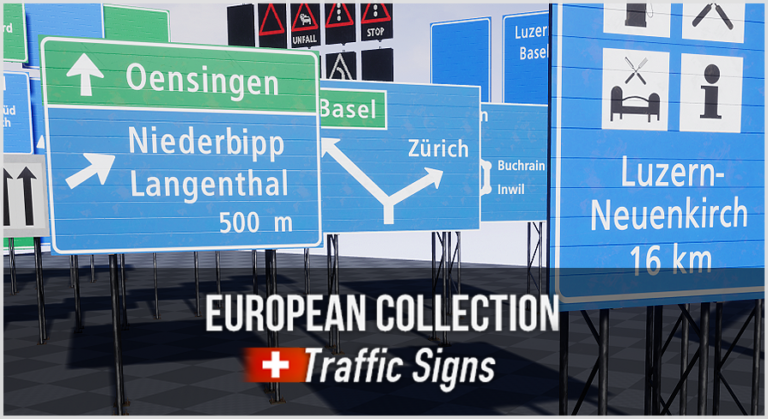 European Collection: Swiss Highway
~98 signs/ barriers / etc.
Modular Gantries and Signs
"Blank"-Textures for custom Text
Optimized Textures; Example- and Overview Map included
Use packs quickly and easily with drag'n drop
No blueprint knowledge required
You are a game developer or want to create an ingenious simulation? Never underestimate the value of traffic signs in your digital world! With this asset pack, you certainly won't make a mistake when it comes to a Swiss highway.
The applications are endless (PC games, simulations, traffic planning, architecture, movies and more).
Another pack that might interest you is the "European Collection: Swiss Traffic Signs" pack! This includes all relevant Swiss traffic signs for the country and the city.