The American Traffic Sign Bundle is included in the Unreal Marketplace September Sale at 50% off until September 24, 2021! This contains over 399 signs from America, perfect for your game, whether it's a shooter, open world or some kind of truck simulator? Included are the Canadian Traffic Signs, Mexican Traffic Signs and the US Traffic Signs Vol. 1 and 2. Buy the American Signs Bundle and get all previously released and future American Signs Packs as a free update! If you have any suggestions for improvement, feel free to contact us, updates and pack add-ons are always free of charge. Interested in assets? Then check out the DerSky Unreal Marketplace page!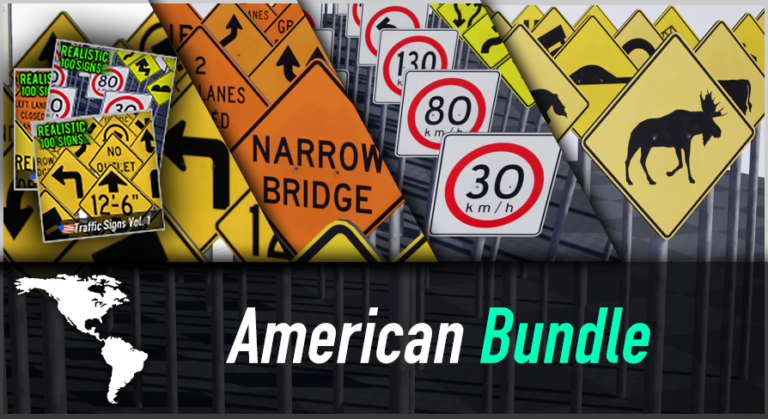 American Traffic Sign Collection: Complete Bundle (US, Mex, Can)
Realistic US Vol. 1 & 2, CAN, MEX Signs
New American Sign Packs

as a free update

Build your own signs (Modular Meshes)
Optimized: Collision, LODs & ORM Textures
Over 399 Traffic Signs
game-ready, archvis ready, realistic
Unreal Engine 4.26, 4,27+,

Unreal Engine 5

convertable
Available in Unreal Marketplace
The American Traffic Sign Collection: Complete Bundle Asset Pack is now available in the Unreal Engine Marketplace. Other vendors will follow soon. If you are interested in this pack, you might also be interested in other products – like the: "Street Props Vol. 1 Pack", German Traffic Signs Volume 1, 2 and 3. Just have a look at the product page.
You still need a few extra little things?
There's nothing worse than buying a pack and then realizing, "Oh damn, I'm missing a bracket." But that's not a problem at all. Individual requests can be handled on request at a reasonable price. Just have a look at the product page. Maybe here is already exactly what you are looking for! If not, just use this page to create a request.
American Traffic Sign Collection: Complete Bundle (US, Mex, Can) - Demonstration