The Black Friday Sale in the Unreal Engine Marketplace is finally here. You can get up to 50% discount on almost all products from "Der Sky" or DefconNet.work. Additionally, the Unreal Marketplace team offers you a $10 voucher for a purchase of at least $15! Don't miss this must-have offer and stock up on my sign packs and level design tools for your project or game. From the Smart Cable Connector Tool to the German, Swiss, Danish, Russian and many other sign packs! Don't wait and get them before Black Friday ends on December 3!
Must-Have Deals for your Project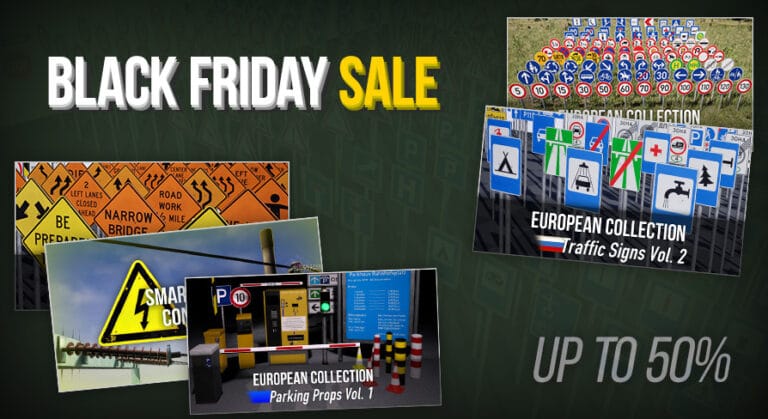 28 Traffic Sign / Level Design Tool -Packs
30 to 50% discount until Dec. 3, 2021
With over $15 purchase value, $10 coupon from EPIC.
Write reviews and get the Traffic Props Vol. 2 Pack

for free

!
Use packs quickly and easily with drag'n drop
No blueprint knowledge required
The new Smart Traffic Light Tool - Create traffic lights in seconds
Save time with the Smart Traffic Light Tool! With this tool you can drag'n drop in seconds your desired traffic light (1s, 2s or 3s) into your level, adjust it visually and set the start sequence, whether red, yellow, flashing, green, "off" as well as their duration. Why create traffic lights by hand? That's what Smart Traffic Light is for.